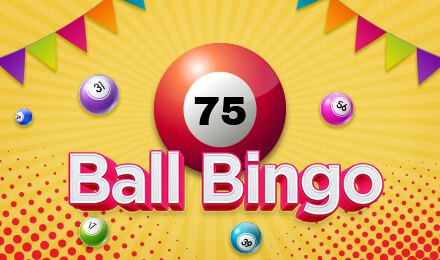 75 Ball Bingo
Attention all agents, you're about to be introduced to Bingo 75 on one of the best bingo sites in the UK. To begin, our mission is to teach you everything you need to know to become a bingo expert.
play now
We've trawled the net and went undercover to gather all the best tips and tricks. Take a look at our detailed article to learn how to play the 75-ball bingo which is hands down one of the most popular forms of bingo around the globe. Ready to take on this top bingo variation for loads of action-pack fun and whopping jackpots?
So what'd you say? Ready to Join Ted Bingo!
Join the fun in our Bingo 75 rooms
All undercover agents, your next mission awaits you. Roll into the world of bingo 75 at Ted Bingo and experience the thrill of mega jackpots. Many of Ted's secret weapons include top-notch bonuses, promotions, fun-pack bingo rooms and much more just for you. We've got them all. On your next escapade to beat other bingo enthusiasts make sure to stop by these fun bingo rooms:
Money Penny: You can win up to £250 1p daily jackpot on this 75-bingo room. Pre-buy your tickets for only 1p per card for loads of action-packed fun. The time schedule and number of players who opted-in the game is clearly shown.
Moonalicious: Fast-track your way to Moonalicious to begin your undercover mission for mega wins. So, what do you say? Get the prizes rolling but first purchase your bingo tickets that cost just a few pennies. It is a live bingo game that's just at your finger tips.
Linked & Loaded -75: Let Ted take you on the Linked & Loaded -75 ball bingo room that will make you go bonkers. Stick around and give yourself a chance to reap a crazy jackpot. And that's just the first of many.
Mystery Jackpot: Play your way to the Mystery Jackpot to win up to £500 daily with our mystery jackpots. Enter a world of espionage and find your fortune in the famous treasure chest. Every single game features a Mystery Jackpot which reveals itself 10 seconds before a bingo 75 game starts.
How to play the 75 ball bingo online
If your bingo experience needs a jump start, make sure to try bingo 75. Few can match the entertainment of this online bingo game which is a twist of the classic bingo game. When it comes down to learning how to play bingo online, no real skills are needed. However, Ted our top bingo agent went undercover to gather everything you need to know to get you on board with one of our top bingo games. Playing the bingo 75 on Ted Bingo, is all about convenience. That's right we are among the best Pay by Mobile sites! On top of being able to play your favourite bingo 75 online, you can also fund your account using your mobile.
The Bingo 75 ticket
The bingo ticket is made up of a 5x5 grid of numbers.
The 75-ball bingo card consists of 25 squares, with 5 rows and 5 columns that are labelled with the letters B, I, N, G and O.
On the bingo ticket, there are 24 numbered boxes with a blank one in the middle.
This bingo game is played with the numbers from 1 to 75. Each number is drawn at random.
How to Select & Buy Bingo 75 tickets?
Visit the lobby and check out the 75 bingo rooms of your choice. The price per card, time schedule, jackpots and number of players are all displayed. Once you've selected a room, your next step is to purchase your bingo tickets. And guess what, you can buy in batches of 24, 48, 72 or 96 Or manually by using the plus and minus sign to increase your number of tickets or even better; you can also select the specific ones you want simply by clicking on individual tickets. It's Just awesome!
Winning Patterns
In this bingo variant, there's a wide range of winning patterns. Since the bingo card is made up of a 5 by 5 grid of numbers that are picked at random, the bingo patterns are endless. When the bingo 75 game starts, the winning pattern will be clearly shown on your screen. These include all types of patterns such as Alphabets, Animal Kingdom and a whole bunch of other patterns that are Just for fun. Keep an eye on the coverall ones as they are often played as a jackpot bingo game. During the latter, players will have to cover all squares to win bigger prizes.
Payouts
The size of the bingo 75 game's payout is directly determined by two factors. 1. The number of players 2. The cost per each bingo ticket. This means that the higher the ticket prices and the higher the number of players that join a game, the higher the payout. However, the game is usually played with a fixed minimum prize regardless of these 2 factors.
FAQ
Bingo 75 is an entertaining bingo variant that uses 75 numbers and a wide variety of bingo patterns. On Ted Bingo, you'll be spoilt for choice. There're different 75 ball bingo rooms and some might lead you to whopping jackpots!
On Ted Bingo, the 75 ball bingo rooms let you decide if you want to daub your bingo tickets manually or if you want to let the system daub them automatically. Go ahead and open your settings, which is at the top left-hand side of your bingo screen to adjust it according to your likes.
A bingo caller calls numbers 1 to 75 out randomly, as they are withdrawn by a bingo system. During a bingo game, each number will be called only once.
Well, we have a hybrid of bingo and slot called Slingo bingo. It is played on a 5x5 layout same as the bingo 75. It is an easy-to-play game with plenty of ways to win prizes.