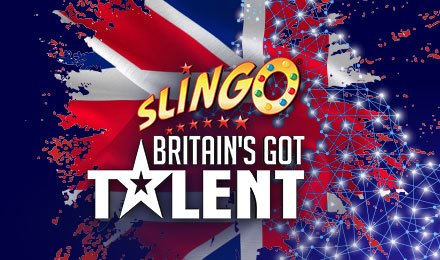 Slingo Britain's Got Talent
Love showbiz and gaming? Then try out Slingo Britain's Got Talent, an exciting new twist on the game; you get to play a showbiz-themed game of your favourite combination of Slingo slots and Slingo bingo!
play now
Inspired by the wildly success reality TV show, Britain's Got Talent, this game follows the standard Slingo games format. However, that's all that's standard about it. It has big prizes, exciting symbols that can boost your chances to win and a massive jackpot that will have you singing your way to the bank!
How to play Big Slingo Reel Extreme
This Slingo casino game is really fun &simple.
Select your stake by clicking on the ( ) or (-) buttons.
Click on the Start button to initiate the game.
Mark off a column, row or diagonal to win.
Mark off the entire grid to win the Jackpot of £20,000!
Bonus Symbols
The Slingo bonus symbols in this game help you increase your chances of winning, but there is one evil one that can hurt your game.
Joker: This is the wild symbol, which, if it lands on your reel, allows you to mark off any number in the corresponding column.
Super Joker: Another wild, however, with this one, you get to mark off any number anywhere on the grid.
Joker/Super Joker Combination: If you manage to land 3 or more Jokers, Super Jokers or a combination of the 2, you get an instant cash prize!
Free Spin: You get awarded a free spin if this symbol lands on centre column of your reel.
Coins: You get instant cash prizes if the Coin appears on your reel.
The Devil: This bad guy blocks possible matches on the reel, so beware!
Features And Benefits
This Slingo online game may be simple to play, but it has tons of features and great benefits. Its layout of is standard, with a 5x5 75-ball Bingo grid in the middle of the game screen. The right side of the screen shows you the number of spins (in the form of Bingo balls) you have.
You start the game with 11 spins, and can win up to 6 free spins in the course of the game. You also have the option of buying up to 4 more spins. You win a Slingo when you complete a row, column, diagonal or the entire grid (which is the jackpot).
The game gets even more interesting with the special bonus symbols that appear on the grid – they increase your chances of winning, well, most of the time. There is the Devil, after all, to throw a spanner in the works!
Mobile Experience
Play Slingo Britain's Got Talent on your mobile devices on the go now! That way, you can access you favourite Slingo sites anywhere you want, and at any time you want!
Tips & strategy
| | |
| --- | --- |
| 1 | Beware of the Devil as he can block you matches. |
| 2 | Use your Jokers and Super Jokers wisely. Try and mark off those numbers on the grid that are most likely to get you a Slingo. |
| 3 | Remember, your winnings will vary depending on the size of your bet. |
| 4 | You can't change your bet mid-game, so choose carefully how much you should bet. This game's RTP is 95%, which means you have a decent chance of winning big, so use that to your advantage. |