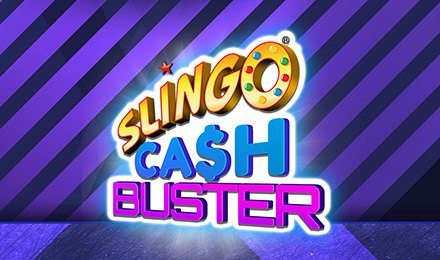 Slingo Cash Buster
If you are looking to try something different but still want to play Slingo games, then you need to try Slingo Cash Buster. Unlike other Slingo online games, in this unique game, you need to roll the dice to play and win.
play now
This Slingo casino game's mix of Tetris and Candy Crush is absolutely amazing! All you need to do is roll the dice to get a matching colour in the Cash Buster Zone and you may end up winning the mega jackpot of £100,000! You can even win instant prizes and free rolls of the dice, or even trigger the Slingo bonus game.
How to play Slingo Cash Buster
Set your bet. Once you set your bet, it will remain locked in for the next 8 roll of the dice.
Start the game by clicking on the dice on the left corner of the screen. This dice has the 6 colours that match the ones on the grid. The colours in the Cash Buster Zone as well as adjacent blocks will be blasted off the grid when they match the colour on the dice.
You have 8 rolls of the dice to win the game.
You win prizes when the colour bar or bars on the left side of the screen are filled up!
Bonus Symbols
You get a whole bunch of special features and benefits when you play this Slingo slots-bingo game.
Extra Rolls:There are blocks in the grid that are marked Extra Roll. If you manage to blast one of these, then you are awarded an extra roll.
Instant Wins: You also get instant wins if you blast a block that has Instant Win marked on it. You can win £3, £6 and even £15 by snagging that block.
Mini Game:If you land the mini game, then pick a card that will give you extra colour wins. For example, if you win 4 green blocks, it is added to your total of green blocks, thereby increasing your chances of a Slingo!
Features And Benefits
Unlike the regular Slingo bingo layout, you have a Tetris-like grid of 60 blocks made up of coloured bricks (red, green, blue, orange, purple and yellow). At the bottom of the grid is the Cash Buster Zone, which is where you need to blast the blocks.
On the left side is the prize table. Each colour has a bar to show you how many blocks of that colour you have blasted. If you complete a colour bar, you win the pay-out associated with that colour.
Remember, the pay outs will vary depending on the size of your bet. So, a £2 bet will get you maximum prize of £20,000! And if you bet £100, then you have the chance of walking away with the mega jackpot of £100,000!
Mobile Experience
If you truly love Slingo Cash Buster and want to play it wherever you want, or at any time you want, then download the Slingo UK mobile version on your phone
| | |
| --- | --- |
| 1 | Focus on getting those instant wins to increase your prizes |
| 2 | Try for the Mini Game block to increase your chances to win when you play Slingo Cash Buster. |